Movies · Music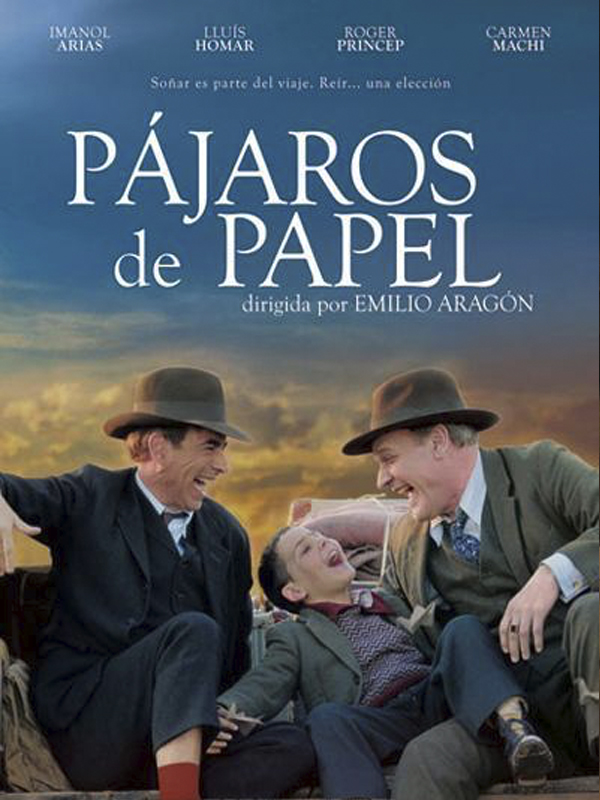 SYNOPSIS
Paper Birds tells the story of a group of vaudeville artists after war has taken away all but their hunger: musician Jorge del Pino, ventriloquist Enrique Corgo, cupletist Rocío Moliner, and Miguel, the orphan.
REFLECTIONS OF THE DIRECTOR
"I don't know exactly when the idea of Paper Birds as a film was born. However, I can find moments of the story that is told within it, in many of the anecdotes and adventures that, throughout my life, I have heard at home, during the after-dinner moments, in celebrations, and also in everyday life.
Once again, I feel that the project chooses me and not the other way around. The atmosphere, the aroma, the backstage adventures of a varieté company are part of my personal imagination, and perhaps bringing them out and sharing them answer a vital need. Telling this story has allowed me to travel through places and emotions where I thought I had been before, this time with the imagination of a child, and the heart of a man.
Paper Birds aspires to be a journey towards the best of ourselves, a courageous bet on the love of life, looking at our own pain face on."
GENRE: Comedy, Drama
DURATION: 110 min.
LANGUAGE: Spanish
YEAR OF PRODUCTION: 2010
PRODUCTION COMPANY: Globomedia Cine, Antena 3 Films and Versátil Cinema
DETAILS
Director
Emilio Aragón
Executive production
Emilio Aragón y Santiago de la Rica
Script
Fernando Castets
Emilio Aragón
Music
Emilio Aragón
Director of photography
David Omedes
Editing
Pepe Salcedo
Cast
Imanol Arias, Lluis Homar, Carmen Machi and Roger Princep
PREMIOS
Montreal World Film Festival (Audience Award), Seattle International Film Festival (Au-dience Award), Best Woodstock Film Festival, Best European Film at the Viareggio EuropaCinema, Best Film and Best Actress (Carmen Machi) at the Tokyo Latin Beat, Film Forum Zadar (Audience Award), "Ciudad de Tudela" Award for Best Film and "Juventud de Tudela" Award for Best Film at the Tudela Opera Prima Film Festival, Best Film and Best Actor (Miguel Ángel Egido) at the Primavera Cinematográfica de Lorca, Best Film at the "Micrófonos de Oro" Awards, Goya Award Nominations for Best New Director and for Best Original Song (2010).